To guarantee that students and faculty alike enjoy a nutritious lunch every day, the school's academic and operations departments work together.
Head of EYC and Chinese Principal of EYC, take turns every lunchtime to guarantee that students are served in a timely manner in the cafeteria. They keep a close eye on the food served in the cafeteria, tasting it, making sure it's clean, and reporting any issues they detect to the school's operations department right away.
All teachers and students at Harrow Nanning receive the same meals, and they all eat together.
Teachers and students dine together as though they were longtime friends. As a result of "Clear Your Plate" Campaign, instructors and students are able to reduce the distance between themselves and their pupils, as well as invariably address the children's eating patterns of overeating and undereating. According to Regulations on School Food Safety and Nutrition Health Management released by the Ministry of Education in 2019, the person in charge of primary or secondary schools or kindergartens is required to dine with pupils and keep records of meals served to the kids. While the "dining together method" at Harrow Nanning provides a safety valve for food safety, it's more than that for the school. Harrow School has a longstanding tradition of encouraging open dialogue between students and faculty members by dinning together. It's a simple idea, but teachers use it to teach kids about proper dining manners and about respecting the benefits of others' labor. Teachers learn about their pupils' everyday lives and their needs in a "informal" fashion.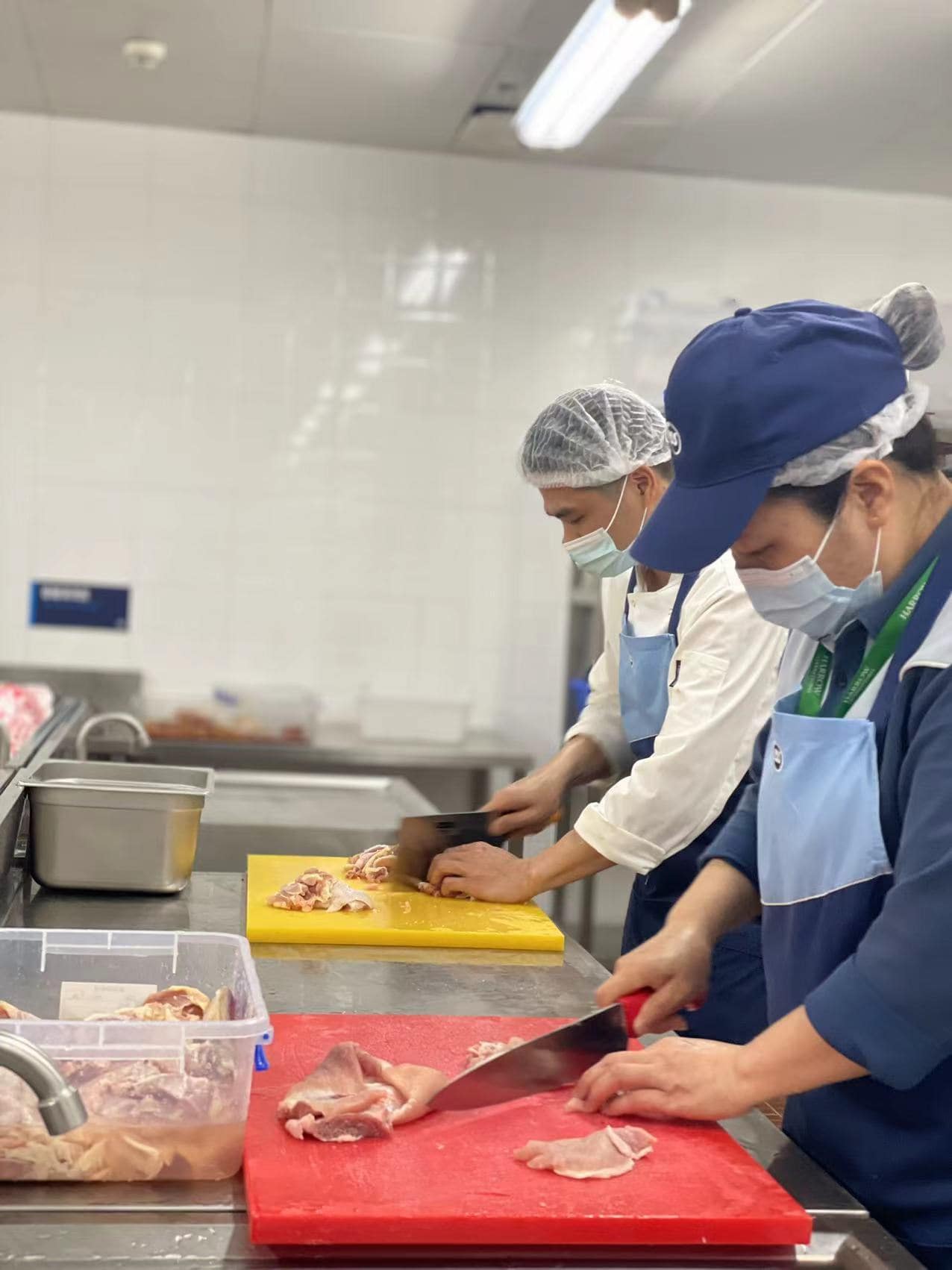 Each week, the school nutritionist collaborates with the nutrition system to provide nutritious and moderately sized dishes. In accordance with the Harrow School Meal Standards, the ingredients are brought to the school in a cold chain truck. Using a cold-chain truck prevents contamination of products during delivery and maintains freshness in a temperature-controlled environment. The kitchen storekeeper serves as the first line of defense in the school's food safety program. No rotting, expired or broken ingredients are allowed to enter the kitchen because the storekeeper carefully receives, inspects and returns the foods. Raw and cooked food are segregated in the kitchen, allowing each step to be smoothly integrated. Chefs and their assistants will be filmed while they prepare meals in the kitchen using cameras that will be linked to the Education Bureau and other departments, allowing supervisors to monitor the preparation process in real time. Samples of the day's dishes are required to be kept for 48 hours following a dinner, according to laws. The school's samples are twice as many as the amount of samples necessary to be retained in order to confirm the authenticity and dependability of the food samples.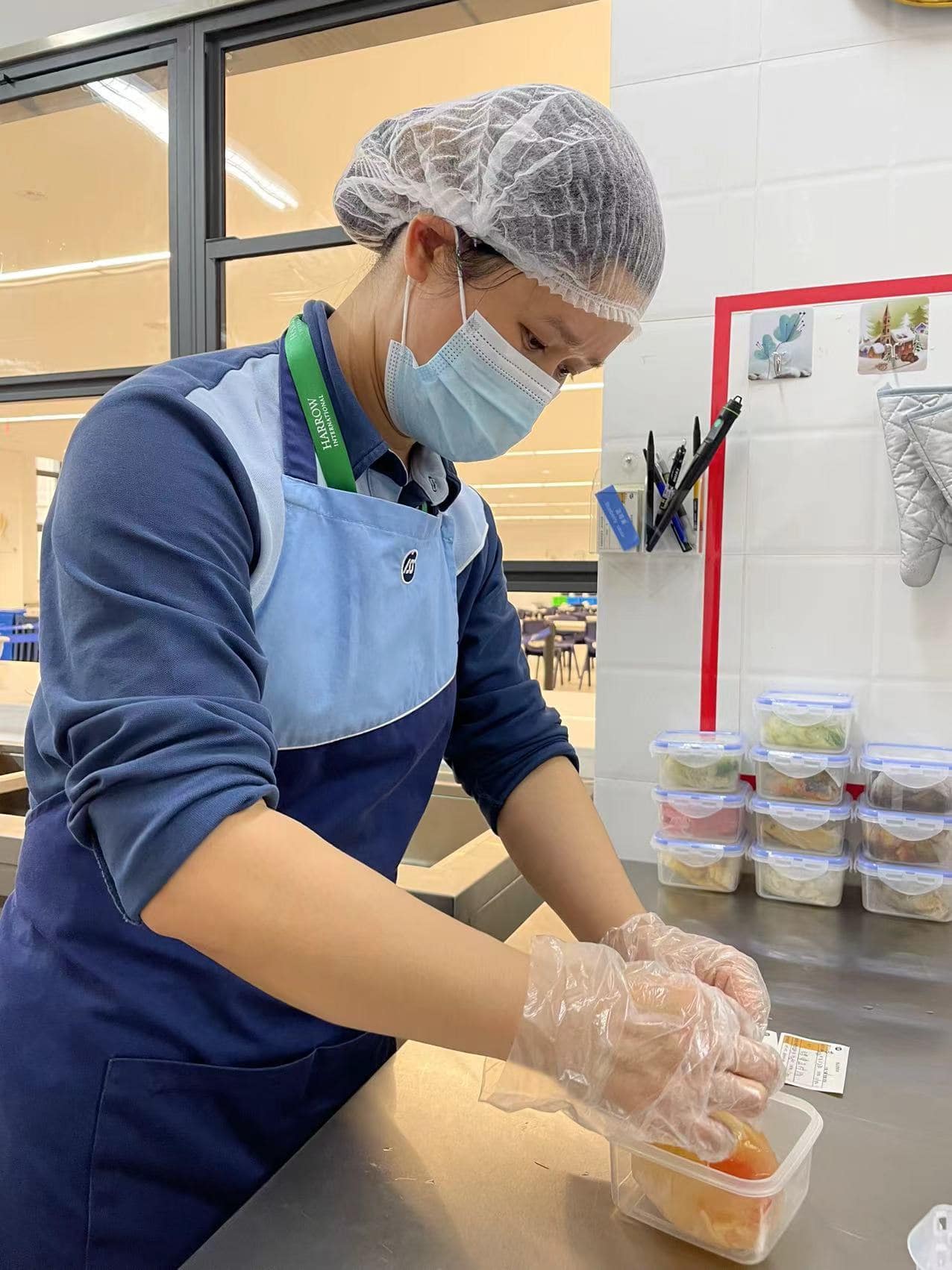 Catering at Harrow School are required to adhere to a stringent food safety policy. All teachers in charge of catering, nutrition, food safety, and cleanliness must get training in these areas. There are more than 20 rules for six categories of food: staple foods, fruits and vegetables, meat (protein), milk and dairy products, and cooking methods and ingredients, for example, lunch must include one main dish for both Chinese and Western meals; one meat dish for both Chinese and Western meals; and two soups for both Chinse and Western meals. ISS,the canteen vendor also has strong food safety rules, and each connection is traceable, from the selection of raw materials, procurement, processing, and production, up to on-site monitoring service. The HSE manager from the ISS headquarters in Shanghai visits Nanning once a month to keep an eye on things. The school's operations staff meets with ISS on a weekly basis to discuss problems and make suggestions for solutions based on observations and input from various sources.
Students at Harrow Nanning are fed three times a day: in the morning, at lunch, and at night (dinner and evening meal are for boarding students only). As the saying goes, "it's hard to please everyone", however, the restaurant serves roughly 10 dishes a day in four stalls: Chinese, Western, vegetarian and non-allergenic, and noodle, as well as seasonal fruits and limitless milk throughout the day. It's no secret that the chef, who has worked at Michelin restaurants in Denmark and five-star hotels throughout the world, is a big hit with kids and instructors alike. Shrimp with egg sliders, minced pork and tofu, and bashful noodles are all popular choices for Chinese diners. Baked vegetables with cheese, braised fish with herbs, spaghetti, and other Western pleasures can be enjoyed by children. The restaurant's sophisticated patrons can't help but taste everything on the menu.
Teachers and kids alike are eagerly awaiting the cafeteria's Special Menu. Special beverages and foods are served in the cafeteria during the holiday season in order to spread the holiday spirit from the tip of the tongue, and here is where the voyage of world food begins.
Students and teachers at Harrow Nanning come from a variety of nations and cultures, and their culinary preferences reflect this diversity. Teachers and pupils both have unique physical characteristics that make it possible that one or both may be allergic to certain components. As a precaution, the kitchen performs an allergen screening of the day's ingredients as well as preparing allergy meals and vegetarian meals for instructors and kids who need them. Chefs work tirelessly to ensure that children and teachers can enjoy their meals in the safest and healthiest way possible.